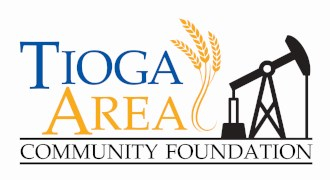 About the Tioga Community Foundation
The Tioga Community Foundation was established in 2001 by a group of residents concerned about the lack of funding for local organizations. It provides a method of receiving donations and distributing grants to benefit projects or nonprofit organizations in the Tioga area. The Foundation is affiliated with the North Dakota Community Foundation, which is a nonprofit, tax-exempt corporation under IRS code 501(c)(3) and North Dakota Law.
The Tioga Community Foundation is managed locally by a group of volunteers whose main activities are building the fund and recommending grants annually. 
Local Advisory Committee
Nancy Carlson

Karen Vetsch
Contact
Tioga Community Foundation C/O Farmers Daughter 10 1st St NW Tioga, ND 58852 or John Heinen with the North Dakota Community Foundation at 701-590-4614. or at john@ndcf.net
Seeking Engaged Volunteers!
The Tioga Community Foundation is seeking engaged volunteers from Tioga and surrounding communities to serve as Advisory Committee members. Please contact one of the current committee members or Kara Geiger at the North Dakota Community Foundation if you are interested. The Advisory Committee is responsible for building the endowment fund through various fundraising activities (as determined by the Committee each year), and recommending grants during the annual grant round. Members are supported in their work by the staff of the North Dakota Community Foundation, including an initial orientation and ongoing training and assitance.
Will YOU help make a difference in your community?
Apply for a Grant from the Tioga Community Foundation
Tioga Community Foundation makes grants only to those organizations designated as a 501(c)(3) nonprofit tax-exempt group or government agency. Grants to religious organizations shall be limited to non-sectarian activities (for example, food pantry or community daycare). 
Applications need to be filled out describing the organization, the project, the approximate project cost and the amount requested from the Foundation. Grants do not normally exceed $1,000.00. Applications are available April 1st and should be returned no later than May 1st each year. Deadline may be extended at the discretion of the Advisory Committee. 
The Foundation may not fund entire projects.
In considering a request, the Advisory Committee will consider:

Organization management and integrity
Level of local involvement and support
The number of people to be served and the impact of the project on the community.
The impact of the grant from the Foundation on the success of the project.
Low priority will be given for daily operational requests.
Prioritizing requests:

Board will look at each project on its merits.
No grants outside a 35 mile radius.
No grants to individuals.
Grants will not be concentrated in a single community except the city of Tioga which will receive higher consideration because of the population as well as being the headquarters for serving other surrounding communities.

GRANTABLE BALANCE FOR 2018:$4,500

---

 

Download an application form, and send completed application to: 

 Tioga Community Foundation C/O Farmers Daughter 10 1st St NW
Tioga, ND 58852

QUESTIONS: Click here to Email the committee or call Nancy Carlson (701) 641-8331
ONLINE GRANT APPLICATION ACCEPTED APRIL 1st - MAY 1st
ONLINE GRANT APPLICATION CLICK HERE: Fill out completely since form does not save information if you navigate away from the page. A copy will be sent to the committee for review.
ONLINE FILLABLE GRANT REPORT
CLICK HERE TO OPEN ONLINE GRANT REPORT: Reports must be sent 6 months after receiving a grant to be considered for future grants. Be sure to fill in completely and hit send or information will be lost. An email will be sent to you confirming the information you sent.
Grants Awarded by the Tioga Community Foundation
Tioga Park District - $1,000 to resurface tennis court & replace fence          
Tioga Park District - $3,700 for building of outdoor pool & splash pad          
The North Dakota Community Foundation also administers the following funds in the Tioga area. 
---
Tioga Swimming Pool Fund
The Tioga Swimming Pool Fund is desigend to provide monies for the costs associated with improvements at the Tioga Swimming Pool.
DOWNLOADABLE DOCUMENTS
Please use this links as reference, or to download and send to a friend or family member to help us spread the word!
Copyright © 2018 North Dakota Community Foundation