Bowman & Slope County Community Foundation (BSCF)
The Bowman & Slope County Community Foundation was established in 2014 by a group of residents concerned about the lack of funding for local organizations. It provides a method of receiving donations and distributing grants to benefit projects or nonprofit organizations in Bowman and Slope counties, including the towns of Amidon, Marmarth, Rhame, Bowman, Scranton, Gascoyne, and Haley. The Foundation is affiliated with the North Dakota Community Foundation, which is a nonprofit, tax-exempt corporation under IRS code 501(c)(3) and North Dakota Law.
The Bowman & Slope County Community Foundation is managed locally by a group of volunteers whose main activities are building the fund and recommending grants annually.
Local Advisory Committee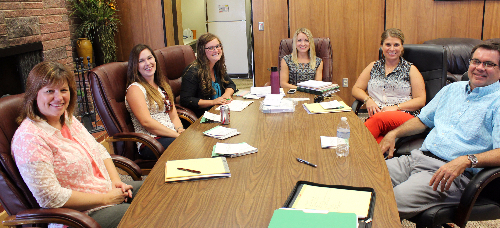 Teran Doerr 
Jeanine Clendenen
Ila Kelner
Scott Hardy
Les Snavely
Carla Teske
Kasey Burke
Ron Palczewski
Amy Fischer
Contact
BSCF Foundation C/O EDC
PO Box 1143
Bowman, ND 58623
701-523-5880
or contact John Heinen with the North Dakota Community Foundation in the Dickinson office at (701) 590-4614 or john@ndcf.net
Dakota Western Bank Pledges $50,000 to the Bowman & Slope County Community Foundation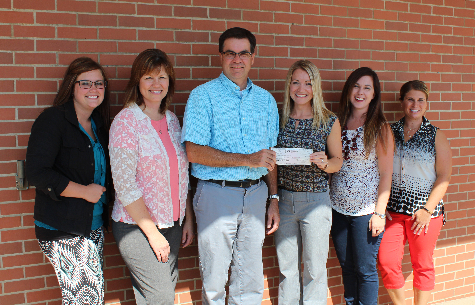 Dakota Western Bank, with offices in Bowman, Rhame, Scranton, and Hettinger, has made the first gift to the Bowman & Slope County Community Foundation, presenting a check for $10,000 to members of the organization's Advisory Committee on September 1, 2015.  In addition, the bank has pledged $10,000 a year for another four years, bringing the total donation to the new fund to $50,000.
"This is an incredible gift to the future of our area," said Teran Doerr, a member of the Bowman & Slope County Community Foundation Advisory Committee.  "We are so thankful to Dakota Western Bank for this investment in our community foundation."
Organized in 2014, the Bowman & Slope County Community Foundation is a permanent fund where gifts from many individuals and businesses are pooled into a single fund.  Every year, income generated from the fund will be used to make grants to organizations that provide projects and programs to improve the quality of life for area residents. 
The Bowman & Slope County Community Foundation is a component fund of the North Dakota Community Foundation (NDCF), a statewide, non-profit corporation organized under IRS Code 501(c)3.  This status will give donors to the Bowman & Slope County Community Foundation maximum tax deductibility for gifts made to the fund.  NDCF will handle all filing of tax forms, manage the investments and take care of all day-to-day operations of running the foundation.
A local Advisory Committee will be responsible for raising money and making determinations on grant awards. Current Advisory Committee members include Doerr, Ron Palczewski, Les Snavely, Scott Hardy, Amy Fischer, Ila Kelner, Jeanine Clendenen, Zane Anderson, Kasey Burke, and Carla Teske.
Because it is managed as a "qualified endowment fund" as defined by North Dakota state law, donors to the Bowman & Slope County Community Foundation may be eligible for a very generous state tax credit.  Individuals that give at least $5,000 and businesses that give any amount in one calendar year may be eligible for a 40% state tax credit. Click here for more information about the tax credit.
For more information on the Bowman & Slope County Community Foundation, contact Teran Doerr at 701-523-5880. EMAIL BY CLICKING HERE
For questions about NDCF please contact John Heinen ND Western Edge Development DIrector (701) 590-4614 or john@ndcf.net
ONLINE GRANT APPLICATION SEPT 1st to OCTOBER 1st

We made it easy for you to apply online for a grant!
Step 1 - Review
Review the grant guidelines above to make sure your organization qualifies.
Step 2 - Register
Create an account on our Grant Portal. You will need your organization's name, EIN, and executive officer's name. Be sure to write down your user name (email address) and password.
Step 3 – Complete Your Application
After registering or logging in, you will arrive at the application section. Click "Apply" to the right of the grant program to which you wish to apply. If you do not see your desired grant program on the list, contact our office. You will be able to save your application and return later to complete it.
Click here for more detailed instructions and tips for using our online grant system.
GRANT CRITERIA:
Grants are given yearly, and will fund the most urgent need of that year to the extent funds are available.
BSCF is for general needs of the region with equity to both county areas as possible. Grants will be awarded to any organizations designated by the IRS as 501(c)3 nonprofit tax exempt groups, or government agencies. Contact the committee at the email below if you need a fiscal sponsor.
The board places emphasis on helping applicants that have limited access to other funding.
Extensions may be granted and additional grant application deadlines may be added at the discretion of the Advisory Committee.
Approved grant requests may be funded in full or partially, at the discretion of the Advisory Committee.
Requests for projects or programs that serve a greater number of county residents will receive higher priority.
Grants can be made to any entity in the Slope-Bowman county.
LOW PRIORITY:
To projects substantially supported by government or which can and should be paid with tax revenue.
Grants to national organizations.
Requests for operating funds or day-to-day expenses.
Grants to religious organizations shall be limited to those activities which are non-sectarian and serve the entire community. ie. food pantry
NOT FUNDED:
Requests for grants or scholarships for individuals will NOT be considered.
Multi-year "pledges"
Grants submitted by organizations who seek to influence legislation, carry on propaganda, participate in political campaigns, or which threaten to cause significant controversy or divisiveness.
Grant Ideas: New Playgrounds, Planting Trees in parks, School Food support program, Shelter needs, County projects to improve quality of life, special need in Nursing home or hospital. Ambulance & Fire needs.
Questions: EMAIL by clicking here
No grants have been awarded from this fund.
Copyright © 2018 North Dakota Community Foundation