Adams County Community Foundation
About the Adams County Community Foundation
The Adams County Community Foundation was established in 2015 by a group of residents concerned about the lack of funding for local organizations. It provides a method of receiving donations and distributing grants to benefit projects or nonprofit organizations in Adams County. The Foundation is affiliated with the North Dakota Community Foundation, which is a nonprofit, tax-exempt corporation under IRS code 501(c)(3) and North Dakota Law.
The Adams County Community Foundation is currently seeking committee members to both are building the fund and recommending grants annually.
Advisory Committee
Adams County Community Foundation: Interested in working with other community leaders to grow a Legacy Fund, which will impact the community year after year perpetually? Call Jim to find out more.  
Contact
Jim Goplin at Adams County Development Corporationor regarding local calendar of meetings and granting
or
John Heinen at North Dakota Community Foundation for giving questions about gifting options.
ALLETE Clean Energy Donates $10,000 to Adams County CF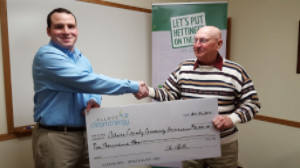 Thanks to ALLETE Clean Energy (ACE) for their $10,000 donation to the newly formed Adams County Community Foundation! A subsidiary of ALLETE, Inc., ACE recently finished construction on the 107-megawatt Thunder Spirit Wind Farm near Hettinger, N.D. Montana-Dakota Utilities will aquire and operate the wind farm for use by its utility customers.
ACE wished to leave a lasting gift for area residents in thanks for the cooperation and support they received from the people of Adams County.  Their donation to the Adams County Community Foundation will provide grant dollars into perpetuity for projects and programs in the area.
For more information about ALLETE's gift, click here.
If you or someone you know woudl like to donate to the fund, please contact Jim at adamscdc@ndsupernet.com
Currently, the foundation is interviewing potential committee members. If you or someone is intersted, please contact Jim for more details.
Additional infomration about the NDCF can be directed to John Heinen Development Director (701) 590-4614 or john@ndcf.net
Apply for a Grant from the Adams County Community Foundation
The grant guidelines have not yet been established for this new fund. Check back at a later date to view the guidelines and instructions for applying for a grant. 
ONLINE GRANT APPLICATION
CLICK HERE FOR ONLINE GRANT APPLICATION: Fill out completely since form does not save information is you navigate away from the page. The committee will receive a copy once you hit sent.
ONLINE FILLABLE GRANT REPORT
CLICK HERE TO OPEN ONLINE GRANT REPORT: Be sure to fill out completely and hit send or information will be lost. A confirmation email will be sent to you with all information entered.
This is a new fund with the North Dakota Community Foundation. No grants have yet been awarded. Check back at a later date to see which projects or programs are awarded funding.
Copyright © 2017 North Dakota Community Foundation