Adams County Community Foundation (ACCF)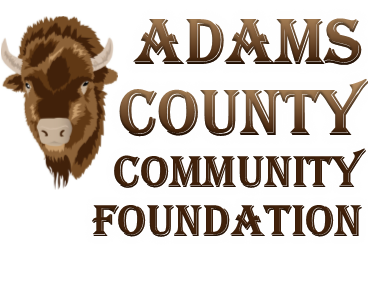 The Adams County Community Foundation (ACCF) was established in 2015 by a group of residents concerned about the lack of funding for local organizations. It provides a method of receiving donations and distributing grants to benefit projects or nonprofit organizations in Adams County. The Foundation is affiliated with the North Dakota Community Foundation, which is a nonprofit, tax-exempt corporation under IRS code 501(c)(3) and North Dakota Law.
Contact
Jasmin at Adams County Development Corporation regarding local calendar of meetings and granting
120 South Main ST. PO Box 1323 Hettinger, ND 58639-1323
or
John Heinen at North Dakota Community Foundation for giving questions about gifting options.
ALLETE Clean Energy Donates $10,000 to ADCF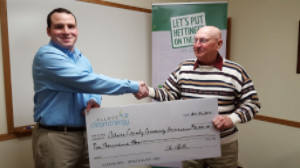 Thanks to ALLETE Clean Energy (ACE) for their $10,000 donation to the newly formed Adams County Community Foundation (ACCF). A subsidiary of ALLETE, Inc., ACE  finished construction on the 107-megawatt Thunder Spirit Wind Farm near Hettinger, N.D. Montana-Dakota Utilities will aquire and operate the wind farm for use by its utility customers.
ACE wished to leave a lasting gift for area residents in thanks for the cooperation and support they received from the people of Adams County.  Their donation to the Adams County Community Foundation will provide grant dollars into perpetuity for projects and programs in the area.
For more information about ALLETE's gift, click here.
If you or someone you know would like to donate to the fund, please contact Jasmin at adamscdc@ndsupernet.com
Or go click here for secure online giving, or to download a gift form to send with your check.
Additional infomration about the NDCF can be directed to John Heinen Development Director (701) 590-4614 or john@ndcf.net
JUNE 30th to JULY 30th Available $333
GRANT CRITERIA:
Grants are given yearly, and will fund the most urgent need of that year to the extent funds are available.
ACCF is for general needs of the region with equity around the county  as possible. Grants will be awarded to any organizations designated by the IRS as 501(c)3 nonprofit tax exempt groups, or government agencies. Contact the committee at the email below if you need a fiscal sponsor.
The board places emphasis on helping applicants that have limited access to other funding.
Extensions may be granted and additional grant application deadlines may be added at the discretion of the Advisory Committee.
Approved grant requests may be funded in full or partially, at the discretion of the Advisory Committee.
Requests for projects or programs that serve a greater number of county residents will receive higher priority.
Grants can be made to any entity in the Adams county.
LOW PRIORITY:
To projects substantially supported by government or which can and should be paid with tax revenue.
Grants to national organizations.
Requests for operating funds or day-to-day expenses.
Grants to religious organizations shall be limited to those activities which are non-sectarian and serve the entire community. ie. food pantry
NOT FUNDED:
Requests for grants or scholarships for individuals will NOT be considered.
Multi-year "pledges"
Grants submitted by organizations who seek to influence legislation, carry on propaganda, participate in political campaigns, or which threaten to cause significant controversy or divisiveness.
Grant Ideas: New Playgrounds, Planting Trees in parks, School Tech needs,  Food pantry program, Shelter needs, County projects to improve quality of life, special need in Nursing home or Hospital. Ambulance & Fire needs.
QUESTIONS: Jasmin Fosheim (701) 567-2531 or adamscdc@ndsupernet.com
__________________________________________________________________________________________________________________________
New for 2018 and Beyond:
We made it easy for you to apply online for a grant!
Step 1 - Review
Review the grant guidelines above to make sure your organization qualifies.
Step 2 - Register
Create an account on our Grant Portal. You will need your organization's name, EIN, and executive officer's name. Be sure to write down your user name (email address) and password.
Step 3 – Complete Your Application
After registering or logging in, you will arrive at the application section. Click "Apply" to the right of the grant program to which you wish to apply. If you do not see your desired grant program on the list, contact our office. You will be able to save your application and return later to complete it.
Click here for more detailed instructions and tips for using our online grant system.
BROCHURE 2017: Download, print or email to a friend
Copyright © 2018 North Dakota Community Foundation