NDCF News and Reports
Our Latest News . . .
NDCF Receives National Accreditation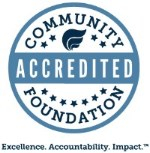 August 17, 2017 ─ The North Dakota Community Foundation (NDCF) recently received accreditation with the nation's highest standard for philanthropic excellence. National Standards for U.S. Community Foundations® establish legal, ethical, effective practices for community foundations everywhere.  NDCF was the first community foundation in North Dakota to be accredited when the standards were first implemented and has maintained its accreditation continuously since 2006.
"Meeting the National Standards benchmarks is a rigorous, comprehensive process," said Randy Royster, Chair of the Community Foundations National Standards Board. "This accreditation is a significant accomplishment that indicates NDCF demonstrates a commitment to transparency, quality, integrity and accountability as it carries out its mission."
The National Standards for U.S. Community Foundations® program requires community foundations to document their policies for donor services, investments, grantmaking and administration. With over 500 community foundations already accredited nationwide, the program is designed to provide quality assurance to donors, as well as to their legal and financial advisors.
Read the full news release here.
---
Sig Jagielski Leaves Gift to Grafton Community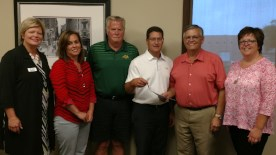 July 12, 2017 . . . The North Dakota Community Foundation (NDCF) has announced a gift from the Sig Jagielski Trust to benefit the Grafton Community Endowment Fund.  Per Jagielski's instructions, NDCF has received the remaining cash in the Trust, totaling over $3,000, and a quarter-section of land north of Grafton.
"Sig has left an incredible gift to this area," said Kevin Dvorak, President & CEO of NDCF.  "He not only took care of his family, he left a legacy for his community.  It is our honor to carry out his wishes and ensure that his gift will benefit Grafton and the surrounding area forever."
Read the full news release here.
---
NDCF Grant Applications Due July 31
June 6, 2017 – The North Dakota Community Foundation is now accepting applications for grants from its Statewide Greatest Needs Fund.  Eligible organizations in the state include those designated by the IRS Code as 501(c)(3) non-profit tax exempt groups, government agencies, such as a park district or school district, or an organization that has one of the above acting as its fiscal sponsor.
Applications are available online at www.NDCF.net/receive/SWGN and must be postmarked by July 31, 2017.   The NDCF Board of Directors will review the applications and make final decisions at their fall meeting.  Grants are paid out in late October or November.
The Foundation distributed $168,928 in Statewide Greatest Needs and field of interest grants to 41 organizations across the state in 2016. 
---
NDCF Announces New Board Members
May 23, 2017 - The North Dakota Community Foundation (NDCF) is pleased to announce the election of Chris Griffin of Grand Forks, Vicki Kuntz of Bismarck, Breanne Carlson of Lisbon, Bruce Dolezal of Dickinson, and Justin Forde of Argusville to three-year terms on the NDCF Board. 
Griffin is a Trust Officer for Bremer Trust in Grand Forks.  Prior to that he was a practicing attorney for six years.  He is a Past President and Board Member of the Grand Forks Noon Rotary and Valley Community Health Center and is currently a Board member of Grand Forks Community Service.
Kuntz is an Insurance Risk Manager for MDU Resources Group, Inc. in Bismarck, North Dakota.  She currently serves on the Board of Directors for the North Dakota Safety Council and ND Workforce Safety and on the Missouri Slope United Way Board of Trustees.  She is also the public member of the ND Board of Podiatry.
---
Our 2016 Annual Report!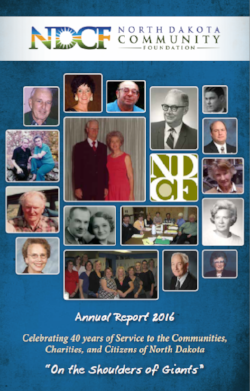 April 17, 2016:  The North Dakota Community Foundation (NDCF) has released its 2016 Annual Report "On the Shoulders of Giants".  NDCF surpassed $71 million in total net assets in 2016 and celebrated its 40th Anniversary.
"Our organization's success is because of some incredible people who had a great vision many years ago and others who continued to support that vision throughout our history," said Kevin Dvorak, President & CEO.  "We know that we are standing on the shoulders of giants."
Other highlights from 2016 include:
964 grants were awarded, totaling over $3.4 million.
1,694 gifts were received to various funds at NDCF, totaling over $3.7 million.
NDCF had 615 active funds at the end of 2016, supporting communities, charities, and students across the state.
The report will be mailed to NDCF donors and volunteers this week.  Click here to view an electronic version.
---
Starion Bank Donates $25,000 to ND Communities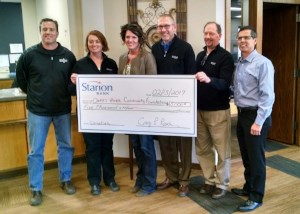 February 15, 2017 – Starion Bank has made a $25,000 donation to five different communities in North Dakota.
The gift will be split among the following community funds:
$5,000 to the Oakes Area Community Foundation
$5,000 to the Ellendale Area Community Foundation
$5,000 to the Rolla Community Endowment Fund
$5,000 to the Bottineau Community Endowment Fund
$5,000 to the Bottineau Community Endowment Fund, benefitting Dunseith
These local community funds are managed as permanent component endowment funds of the North Dakota Community Foundation. Earnings from the funds are given as grants every year for projects and programs that improve the quality of life in the local area.
"We are pleased to be able to provide this permanent gift to these communities," said Craig Larson, CEO and chairman of the board for Starion Bank. "Giving back to the community has always been an important part of who we are as a community bank and this is one way to make a lasting impact."
---
NDCF Announces New Community Foundations
Bismarck, ND – During the week of November 12-18, 2016, the North Dakota Community Foundation (NDCF) will join more than 780 community foundations across America celebrating Community Foundation Week. For more than 25 years, the effort has raised awareness about the increasingly important role of these philanthropic organizations in fostering local collaboration and innovation to address persistent civic and economic challenges.
NDCF currently administers community endowment funds for 63 community foundations in North Dakota, including the most recent additions in 2016: the Dickinson Area Community Foundation in western North Dakota and the Wishek Area Community Foundation in south central North Dakota.
"Community foundations are like having a charitable savings account for your area," said Kevin Dvorak, President & CEO of NDCF. "Whatever the needs are in your community in any given year, your local community foundation will have resources available to address those needs."
Our Archives
Annual Reports
News Releases
July 2017 - Sig Jagielski Leaves Gift to Grafton Community

June 2017 - NDCF Accepting Grand Applications for Statewide Fund

May 2017 - NDCF Announces New Board Members

April 2017 - NDCF Surpasses $71 Million in Net Assets

February 2017 - Starion Bank Donates $25,000 to Community Foundations

November 2016 - NDCF Announces New Community Foundations

October 2016 - NDCF Statewide Greatest Needs Grant Distribution

September 2016 - NDCF Awards $609,000 in Scholarships in 2016