Larry J. Wilwant Fund for Pembina

About the Larry J. Wilwant Fund for Pembina, ND
Established in 2007 through the estate of Larry Wilwant, the Larry Wilwant Fund for Pembina, ND, provides funding for local non-profit organizations and projects by using income from the permanent foundation for grants in the community. The Larry Wilwant Fund is affiliated with the North Dakota Community Foundation, which is a non-profit, tax-exempt corporation under IRS code 501(c)3 and North Dakota State Law.
The Larry Wilwant Fund is managed locally by a group of volunteers whose main activities are building the fund and recommending grants annually. 
Local Advisory Committee
Lisa Plante
Gary Helland
Tina Dorian
Tim Wilwand
Matthew Gruenberg
Contact
Lisa Plante 
152 W Rolette Street
Pembina, ND 58271
701-825-6819
or contact Amy Stromsodt, NDCF Development Director, at 701-795-1531
How to Apply for a Grant from the Larry J. Wilwant Fund for Pembina
Guidelines
Grants will be made only to those organizations designated as a government entity or a non-profit, tax exempt group under IRS code 501(c)(3). Grants will not be made to individuals.
Grants shall be awarded to organizations that serve the city of Pembina as determined by an Advisory Board of local residents.
Grants will generally not exceed $5,000 per application.
Low priority will be given to grants requesting funds for day-to-day operations.
Grants to religious organizations will be limited to those activities which are non-denominational and serve the entire community.
*Applications must be received by March 15th of each year.

In funding decisions, the board will consider the following:
Organizational management and integrity
Level of local involvement and support
The number of people to be served
The impact of the grant on the success of the project
To Apply: Download application form and send completed form to:
Nancy Thompson
152 W Rolette Street
Pembina, ND 58271
Grants Awarded by the Larry J. Wilwant Fund in 2016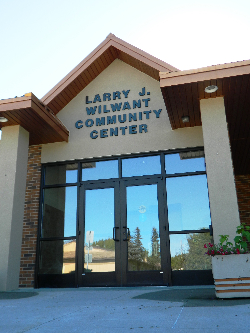 Lamoure Memorial Golf Course, Inc. - $3000 for new decking
Fort Pembina Historical Society - $1000 to start a library at the museum
North Border High School - $3410 to purchase Stadium Seats
Pembina Community Center - Renovation Project:  $10,000
Pembina Recreation Board - 4th Of July Festival:  $5,000
Pembina Recreation Board - Ice Rink Improvements:  $5,000
City of Pembina - $3,500 to purchase a floor buffer for the community center
Pembina Ambulance Service - $5,000 for a CPR Manican and new pagers
Pembina City Fire Department - $5,000 for new air bottles
Other Funds Managed by NDCF in Pembina
Scholarships for Students from Pembina
Alice Olson Byron Memorial Music Scholarship:  The fund was established in 2010 with a gift from the family of Alice Olson Byron and the Alice Olson Memorial Fund, to assist students who have graduated from a Pembina County, ND high school to continue their post-secondary education.  Preference will be given to students who are pursuing a music major, but anyone actively involved in music may qualify as well.
Other Funds from Pembina
Laurel & Betty Koehn Family Charitable Endowment Fund:  Established in 2012, to support the philanthropic goals of the Koehn family.
Save Our Screen Fund:  Established in 2012, the purpose of the Save Our Screen Fund is to provide monies for the costs associated with the renovation/upgrade of the historic Theatre in Cavalier. Grants from the fund will be used to update/preserve the historic Cinema Theater in Cavalier, ND.
Copyright © 2017 North Dakota Community Foundation