Lisbon Community Endowment Fund

Abou the Lisbon Community Endowment Fund
Established in 1981, the Lisbon Community Endowment Fund (LCEF) is a general charitable vehicle that exists to improve the quality of life for residents in Ransom County.  LCEF uses income generated from a permanent pool of investments to make grants to local organizations/projects. 
A committee of local citizens shall be responsible for local fundraising and funding decisions.  Every effort shall be made to maintain a healthy cross-section of persons representing the community.  New members shall be elected by the existing committee from a list of nominated individuals.  Each committee member can serve two full consecutive terms with a limit of 11 total years for any individual member.  The committee shall also have an ex-officio member who will handle all correspondence for the committee.
Local Advisory Committee
Jason Enger
Wes Well
Steve Johnson
Louann Waliser
Morrie Saxerud
Nikki Kenyon
Pastor Norm Anderson
Don Eppler
Breanne Carlson
Contact
Jason Enger
622 Main Street, P.O. Box 273
Lisbon, ND 58054
701-683-5233
or contact Amy Warnke, NDCF Development Director, at 701-795-1531.
LISBON COMMUNITY ENDOWMENT FUND CURRENTLY ACCEPTING APPLICATIONS
The Advisory Committee of the Lisbon Community Endowment Fund is currently accepting applications for the 2016 Fall Grant Round.  COMPLETED applications must be returned to Bremer Bank in Lisbon BY October 1, 2016.
How to Apply for a Grant from the Lisbon Community Endowment Fund
Grant Guidelines:
Grants shall be awarded to organizations recognized under IRS Code 501(c)3; have an official relationship with local government (ie a school, park district or city); or have a fiscal sponsor that meets either of these two qualifications.
Grants shall only be awarded to those who have submitted a complete application with all information requested on the application provided.
Organizations who have received a grant in previous years must have submitted their post-grant report before being considered for new grants.
Grants to municipalities must have a letter of support from the governing board of that entity.
Grants shall be awarded to organizations and/or projects within Ransom County with priority given to projects that serve the community of Lisbon
Each grants will be considered annually.  Multi-year commitments (pledges) shall not be awarded.
Grants to religious organizations shall be limited to those activities which are non-denominational and serve the entire community.
The Lisbon Community Endowment Fund will accept applications twice a year.  Applications are due by April 1 and October 1 to be eligible for that grant cycle.  Applicants will be notified within 30 days of these deadlines as to Advisory Committee decisions.
To Apply: Download application form and send completed form to:
Jason Enger
622 Main Street, P.O. Box 273
Lisbon, ND 58054
Grants Awarded by the Lisbon Community Endowment Fund in 2016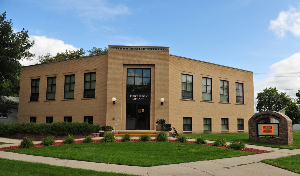 SPRING 2016 GRANTS:
Hospice of the Red River Valley - $1,000 for bereavement service offerings
Ransom County Food Pantry - $3,000 to replace windows
CHI Health at Home - $1,000 for the We Honor Veterans Program
Lisbon Recreation Board - $1,000 to purchase new athletic uniforms
Abuse Resource Network - $1,500 for outreach programs
Lisbon Public Library - $3,000 for Library book betterment for patrons
Lisbon Fire Department - $2,750 for a Widlad truck radio & front bumper
Lisbon Pool Preservers - $3,000 for the Pool Reinvestment Project, Phase I
Lisbon Youth Activities, Inc. - $2,500 for a springboard floor for the Lisbon Gymnastics Program
Lisbon High School - $600 to paint a restricted area arc on gymnasium floor
Dolly Parton's Imagination Library (Lisbon School) - $1,200 to provide free books to children 0-5 yrs
Lisbon Elementary School - $3,000 for the Fresh Fruit and Vegetable Program
Lisbon Public School - $800 for the Milk Scholarship Fund for underprivileged youth
Lisbon High School - $600 for a marching band banner
Other Funds Managed by NDCF in Lisbon
Lewis Lilyquist Memorial Scholarship: 
The Fund was established in 1981 in memory of Lewis Lilyquist to financially assist graduating seniors from the Lisbon, ND High School. The award will be made in the fall of each year.
Lisbon Dollars For Scholars Fund:  Established in 1991 to support the Lisbon area High School students.
Lisbon Kiwanis Leadership Fund:  Established in 1992 to support the Kiwanis leadership program.
Lisbon Public Library Fund:  Established in 1991 to support the Lisbon Public Library
Copyright © 2017 North Dakota Community Foundation