Emerado Community Endowment Fund

About the Emerado Community Endowment Fund
The Emerado Community Endowment Fund was established in 2014 by a group of residents concerned about the lack of funding for local organizations. It provides a method of receiving donations and distributing grants to benefit projects or nonprofit organizations in the Emerado area. The Foundation is affiliated with the North Dakota Community Foundation, which is a nonprofit, tax-exempt corporation under IRS code 501(c)(3) and North Dakota Law.
The Emerado Community Endowment Fund is managed locally by a group of volunteers whose main activities are building the fund and, eventually, recommending grants from the fund's earnings.
Local Advisory Committee
A group of local residents is currently serving as a steering committee, fundraising for the organization, and working on establishing an Advisory Committee to guide the fund in the future.  When the Advisory Committee is established, members will be listed here.
Contact
Brandon Baumbach, (218)-791-0909
Come Join Us at the Emerado Corn Feed!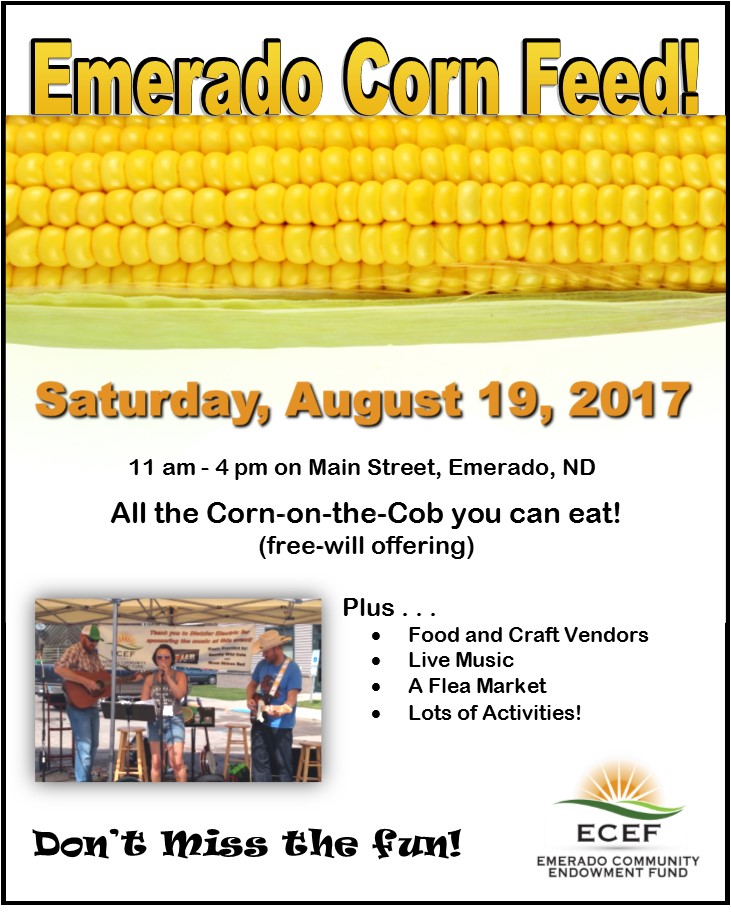 How to Apply for a Grant from the Emerado Community Endowment Fund
Committee members are currently focusing on building the fund and developing the criteria for grant awards.  Please check back soon for a grant application, which will be available to download from this site as soon as it is created.
Other Funds Managed by NDCF in the Emerado area
Emerado School Playground Project Fund:  This fund was established in 2010 to support the Emerado School playground building project.
Copyright © 2018 North Dakota Community Foundation